The Golden Touch Goldsmiths offers more than an exceptional selection of fine jewellery.
With a comprehensive staff of designers, jewellers, goldsmiths, and consultants whose life passion is the creation of fine jewellery, you can be certain that your precious possessions are in good hands with The Golden Touch Goldsmiths.With experience dating back to 1998, The Golden Touch Goldsmiths ensure that your experience and solutions are unique. Our team has a commitment to being the best in our field. Since we make much of the jewellery that we sell, we have a personal interest in those who wear it. Our personal pride motivates us to provide you with the very best jewellery services possible.From a simple request for jewellery cleaning and inspection, to ring sizing, or an elaborate vintage jewelry restoration our jewellers are matched to your project with the skills necessary to ensure the best possible results. Whether you require a rhodium plating on your white gold to restore its original luster, or  need a detailed jewellery appraisal, all work needed will be done, on site, in our jewellery shop in Red Deer, Alberta.
SERVICES THAT WE OFFER INCLUDE:
Custom designs
We have two in-house Goldsmiths that can help you create the jewellery of your dreams through our custom design software and 3D printer. Schedule an appointment by calling our store and start your journey in creating that one-of-a-kind piece.
Custom Jewellery Design:
Step 1: Quote 
Our goldsmith will provide an estimate and a completion date for the job. We will gather all the necessary information we need regarding what gemstones to use, metals (yellow gold, white gold, rose gold, platinum, and, palladium), and the ring size.
Step 2: Sketch
We will then do a rough sketch of the design with the client.
Step 3: 3D Modeling/3D Printing 
Once the sketch has been completed, Our CAD designer will draft the item. We will then email the customer the design and invite them to look a the 3D print prior to casting it metal.
Step 4: Casting/Stone Setting/Polishing 
The Final step includes casting into metal, setting the stones and polishing the final product. We will contact the client once this is complete and ready for pickup.
Jewellery Repair Service
All jewelry repairs are completed on site. Repairs include; Rhodium plating, re-tipping Claws, ring sizing, solder breaks and cracks, shank replacement, chain repair, replacing missing diamonds or stones and more. All work covered under a 1 year warranty
Watch Repairs
Our services include battery replacement, band replacement. We repair the watch brands Seiko, Tissot, and Citizen.
Appraisals
All of our appraisals are delivered with a report confirming the value of the item.
We Buy Gold!
We purchase your old gold jewellery for cash. Visit us in-store to get started.
Jewellery Care Plan
Jewellery care plan is available. See in store for details.
Financing 
0% interest free financing now available. See in store for details. 
Layaway Plan
 We offer a 6 month 0% interest free layaway plan with a 15% deposit down. Monthly payments each month are required.
Return / Exchange Policy
No cash refund, store credit only within 30 days. Item must be in resale condition with valid receipt. Sale merchandise, items discounted more than 10% and all piercing/body jewellery are final sale. Custom design jewellery, special order watches or engraved items cannot be returned or exchanged, modified or resized items not in resale condition are not eligible for return/exchange or in-store credit.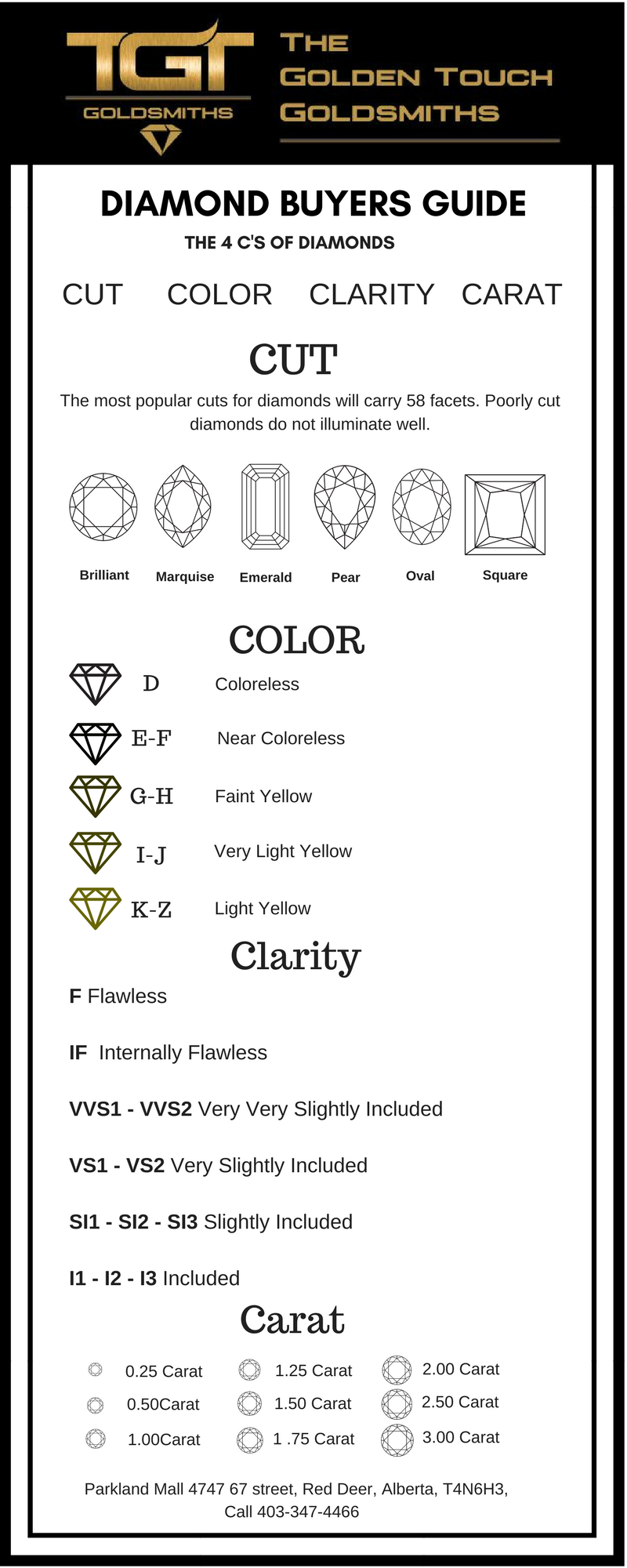 The Golden Touch Goldsmiths
Parkland Mall: 4747 67 Street #300, Red Deer, AB T4N6H3
Phone Number: 403-347-4466                                    
Email: Info@TGTgoldsmiths.com
HOURS OF OPERATION
Mon - Wed:  10:00am - 6:00pm
Thurs - Fri:  10:00am - 7:00pm
Sat:  10:00am - 6:00pm
Sun:  11:00am - 5:00pm